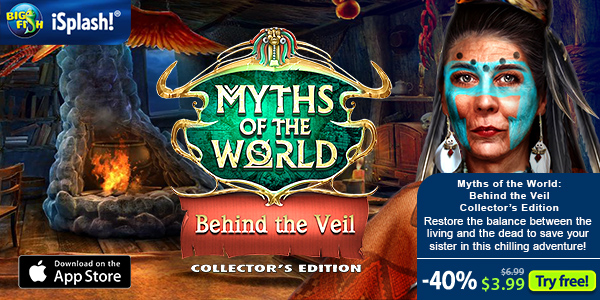 Dead Reckoning: Lethal Knowledge Collector's Edition

Bonfire Stories: The Faceless Gravedigger Collector's
Edition

Dark Tales: Edgar Allan Poe's Lenore Collector's
Edition

We're sending this Big Fish newsletter to you at: sarahkira1987@gmail.com.
To ensure these newsletters go to your inbox [not your junk folder]
just add newsletter@bigfishgames.com
to your address book.
You're receiving this because you created an account at Big
Fish Games.com, or subscribed to the iSplash®
newsletter. Please Read our Privacy
Policy. We respect your privacy, and honor any request to
unsubscribe from this mailing list. If you do not wish to receive
these newsletters in the future, unsubscribe
here or contact us at Newsletter Coordinator, Big Fish Games, Inc.,
333 Elliott Ave W. #200 Seattle, WA 98119.
Please DO NOT reply to this email. We are unable to respond to
inquiries sent to this address. For assistance please visit our
Customer
Support page.
Apple, the Apple logo, iPhone and iPad are trademarks of Apple
Inc., registered in the U.S. and other countries. App Store is a
service mark of Apple Inc
© 2018 Big Fish Games, Inc. Big Fish and the Big Fish
Logo are registered trademarks of Big Fish Games, Inc. in the
United States and other countries.